As a massage therapist you help a lot of your customers in a meaningful way by bringing positivity into their mind and body. As massage therapy has become increasingly important in the health and wellness professions, you can run a flourishing business with the assistance of an organised massage center software. MioSalon, provides you a powerful and systematic approach to efficiently manage your massage and treatment centres from appointment scheduling to running promotional offers, loyalty programs etc.,
MioSalon massage centers software offers an end to end solution that includes:
Easy and flexible appointment scheduler
Send instant notifications and reminders to customers to reduce no shows
Integrated Point of Sale to bill services and sell products
Centralised customer data storage management available on cloud
Send instantnotifications and reminders to customers to reduce no shows and fill slow days
Add staff; maintain multiple user logins, schedule working days and service timings
Add service groups and services
Add products and maintain stock control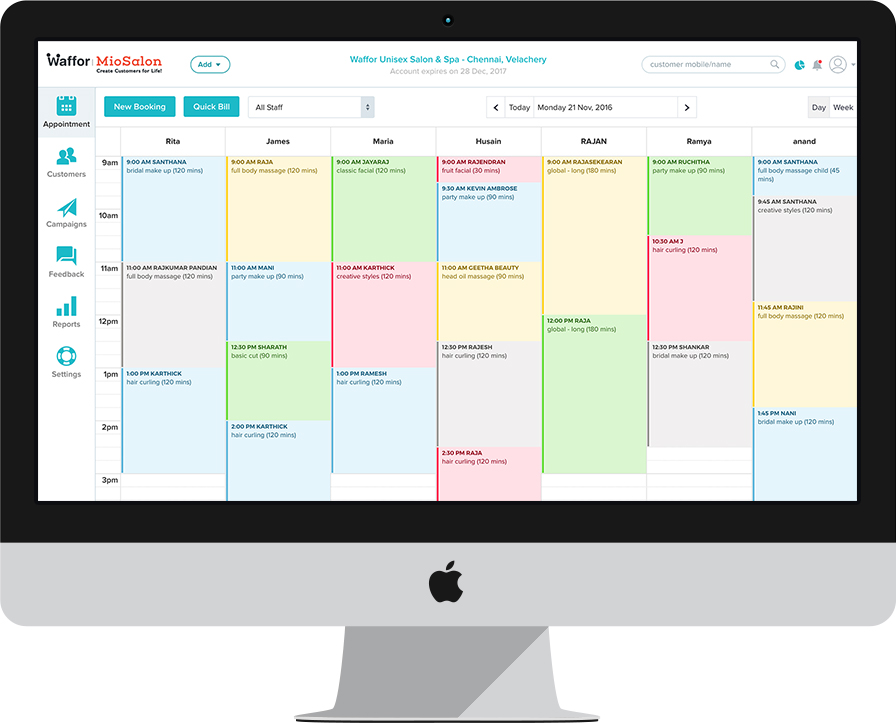 Create a Free Account
MioSalon is an easy appointment scheduling and billing software for Massage centers.
MioSalon is very useful and a powerful tool to build a rapport with our clients. It has really helped us build the customer base in a such a short time.

-AKH Salon
Appointment Booking
With MioSalon, you can handle all your scheduling in one screen; Easily edit, re-schedule or cancel appointments in no time.
Point of Sale
Easy and flexible billing with automatic offer/discount redemptions for memberships, promotional offers and other loyalty programs.
Engagement Marketing
An ultimate customer engagement centric marketing platform for bringing customers more often to your salon or spa.
Data Analytics
Analyse reports on recent sales, upcoming appointments, top services, employee performance and more reports in one place.
Who can use MioSalon Software