Clinic Management Software
Appointment scheduling for patients is an essential part of your daily work whether you own a clinic or a hospital. As a medical practitioner your immense responsibility of curing your patients and earning their trust is what helps you sustain.Your front desk has a daunting task of handling a lot of patient scheduling for multiple aliments like dentist, surgeon, dermatologist, ophthalmologist or other general care appointments. At times it becomes complex without a proper clinic management software in place for clinics and hospitals that take up multiple appointments and functions across multiple time zones. Patients no shows can really affect your practice and make you lose tons of money. Studies have shown medical practitioners greatly suffer from missed appointments leading to a loss of a clinic's total annual revenue.
Clinic management software lets you efficiently take up patient appointments and remind them on upcoming appointments thus helping you not to lose money.
An easy to use and flexible patient appointment scheduling screen
Centralisedpatient details management maintainin cloud
Instant patient profile to check the list of medical conditions and treatments undergone
Dashboard that summaries no.of. appointments scheduled daily, weekly and monthly for patients & clients
Easy access to import existing patient details
Schedule recurring appointments for patients
Send instant notifications and reminders to patients to reduce no shows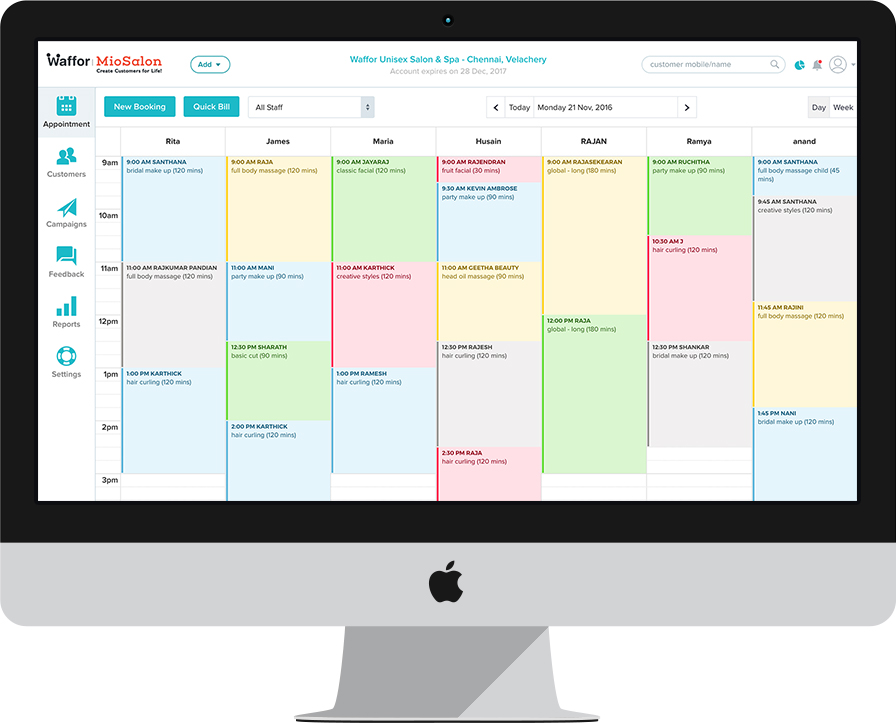 Create a Free Account
Clinic management software is an easy appointment scheduling and billing software for Health Care & Clinics
MioSalon is very useful and a powerful tool to build a rapport with our clients. It has really helped us build the customer base in a such a short time.

-AKH Salon
Appointment Booking
With MioSalon, you can handle all your scheduling in one screen; Easily edit, re-schedule or cancel appointments in no time.
Point of Sale
Easy and flexible billing with automatic offer/discount redemptions for memberships, promotional offers and other loyalty programs.
Engagement Marketing
An ultimate customer engagement centric marketing platform for bringing customers more often to your salon or spa.
Data Analytics
Analyse reports on recent sales, upcoming appointments, top services, employee performance and more reports in one place.
Who can use MioSalon Software