Owning a successful beauty salon comes as a real challenge for salon owners unlike other businesses. Todays' customers are highly knowledgable and are aware of emerging beauty trends & know exactly what they want from your salon. If your are not up to date with the latest services, products, booking processes and customer preferences you might lose out big to the tech savvy salons and spas who embrace technology assistance for their business success. Beauty salon software that make salon management hassle free and productive. Boost your salon business with powerful and flexible features, appointment scheduling, Point-of-sale and automated marketing solutions.
Make your salon and spa entirely data driven
Capture customer details, visit dates, service preference, stylist preference, product preference. Get a 360 degree customer profile to understand their needs better.
An easy to use and flexible appointment scheduling screen
Integrated Point of Sale to bill services and sell products
Centralised customer data storage management available
on cloud
Manage Staff Schedules and Timings
Send instant notifications and reminders to customers to reduce no shows and fill slow days
In-built business intelligence that identifies lost customers and runs automated bring back campaigns
Automated service reminder campaigns to constantly intimate customers to visit often
Get customer ratings & feedbacks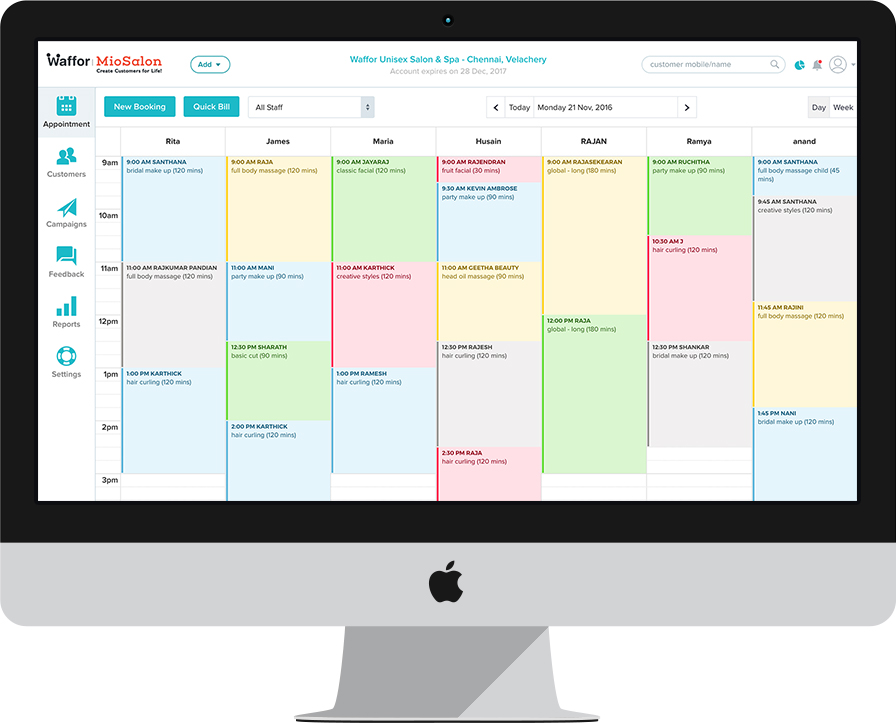 Create a Free Account
MioSalon is an easy appointment scheduling and billing software for beauty salons.
MioSalon is very useful and a powerful tool to build a rapport with our clients. It has really helped us build the customer base in a such a short time.

-AKH Salon
Appointment Booking
With MioSalon, you can handle all your scheduling in one screen; Easily edit, re-schedule or cancel appointments in no time.
Point of Sale
Easy and flexible billing with automatic offer/discount redemptions for memberships, promotional offers and other loyalty programs.
Engagement Marketing
An ultimate customer engagement centric marketing platform for bringing customers more often to your salon or spa.
Data Analytics
Analyse reports on recent sales, upcoming appointments, top services, employee performance and more reports in one place.
Who can use MioSalon Software